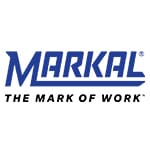 Built by Professionals for Professionals
We believe in the unconquerable spirit of working men and women and understand what drives them. A job well done is certainly the goal, but only part of their motivation. Work done right. Done smart. Done efficiently. And especially work done with the right tools. When it comes to marking tools and solutions, Markal® has been the unchallenged leader for industrial professionals since 1934, when we invented the industrial marking category.
Proven Formulas Provide High-Performance Reliability
The Markal® Paintstik® Original B® (Formally B Paintstik®)
With the introduction of the Original B® Paintstik® in 1934, Markal® changed the face of industrial marking by creating a product that combined the durability of paint with the convenience of a crayon. Since that time, we have continued to build on this innovation by engineering unique marking solutions, making Paintstiks one of the most diverse and commonly used types of industrial marking tools available. These solid paint crayons can mark almost any surface and are ideal for metal fabrication, metal production, welding, construction, and many other industrial uses. As the most versatile. The Original B® Paintstik® solid paint marker is the most versatile and economic marker in the Markal® product portfolio its real paint formula has superior marking performance on oily, icy, wet, dry or cold surfaces and is weather- and UV-resistant. The Paintstik® works on rough, rusty, smooth, or dirty surfaces. Available in a wide variety of bold colors and multiple sizes.
The Markal® Quik Stik® Solid Paint Marker
The industry's largest twist-up solid paint marker uses a smooth-marking paint formula that dries quickly to leave a bold, permanent mark on most surfaces. The innovative form factor of a durable plastic twist-up holder prevents breakage, keeps hands, clothing, and toolboxes clean and comes with an Easy-Grip Airtight Cap for convenient pocket storage. The clip-cap also keeps the marker clean and fresh between uses and can easily attach to a pocket or toolbelt. Available in a variety of bold colors.
The Markal® Paint-Riter® Valve Action® (Formally Valve Action Paint Marker)
Our commitment to developing new and innovative industrial marking solutions for use in some of the world's toughest environments led us to the creation of the Valve Action® liquid paint marker. This innovative product is ideal for use in the automotive industry, construction, welding, and metal production and fabrication. Liquid paint markers are one of the most versatile and relied upon industrial marking tools across the world. These permanent and temporary liquid paint markers offer real paint in multiple tip sizes and colors, and come in a variety of formulations – specific to their application being performed.
Over 87 Years of Needs-Based Innovation
For over 87 years, we have been proud to support the hardworking contractors that build the world's great bridges, ships, automobiles, homes, office towers, power plants, and many other engineering marvels with Markal® products. Pushing towards better is in our DNA and we continue to build upon the philosophy of delivering high-performance products precisely engineered for specific industrial applications. Now entering our fourth generation of family ownership, we continue to craft products that have been built to meet our customers' specific needs.