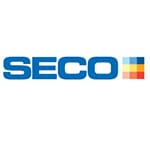 SIMPLY DEDICATED TO YOUR SUCCESS
Seco Tools is a metal cutting tool supplier with global product teams committed to supporting your shop in optimizing common and difficult applications by sharing their collective expertise and by partnering with Turner Supply to get you the best solutions. With their extensive range of over 30,000 standard products, Seco Tools provide solutions for all sizes and scopes of metal cutting applications. Among these products are solid tools by Niagara Cutter™ as well, a brand under the Seco Tools family.
WE PROVIDE THE TOOLS YOU NEED
With our extensive range of over 30,000 products, we provide solutions for all sizes and scopes of metal cutting applications. Our comprehensive offerings include proven tooling for indexable and solid tools for milling, turning, holemaking, and threading. Additionally, Seco Tools has an array of toolholders, and tooling management systems provide you a one-stop source for complete tooling solutions.
WE HAVE WHAT YOU NEED
Achieve the balance of productivity, performance and cost effectiveness required thanks to Seco Tools. We bring a broad range of solid and indexable milling cutters that cover an extensive application area.
Whatever your workpiece material, setup, part requirements and machine capabilities, Seco Tools has incredibly diverse ranges of turning holders and inserts ensures a perfect match to your needs.
Find the best toolholder system for your operation. Designed for all leading machine tool spindle interfaces in ISO, DIN, BT, Seco-Capto™ and CAT standards.
ENGINEERED SOLUTIONS TO IMPROVE YOUR PROCESS
No matter the scope of your project, our state-of-the-art manufacturing and support ensure a high level of collaboration and success. From responding to your need for a specific tool to the continued development of processes that save you time and money, Seco and Turner Supply are with you at every step.